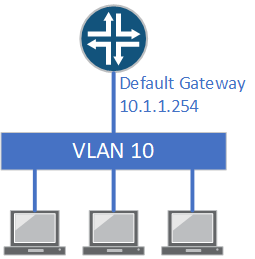 Logical Topology
Many people use the terms 'topology' and 'network topology'. A topology shows how a system is constructed. So, a network topology shows how the components of the network fit together.
A logical network topology shows how information passes through a network. It's a much higher-level view of the network than the physical topology. It does not contain physical details like models and cable types.
As an example, we might think about the logical network topology of a small office. In particular, we might be interested in how devices get internet access.
We could draw this into a diagram, which only shows the parts of the network that relate to internet access.
This might show workstations connecting to VLANs, default gateways, routers, and IP address information.
Understanding the logical topology is useful when troubleshooting specific problems.